Deadline: Sun, 02.05.2021
Participation is free of charge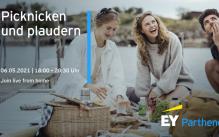 Picknicken und plaudern mit EY-Parthenon
Only For Members
Download to Calendar
06. May 2021, 18:00 - 20:30
This event will be held in german.
Wir würden Dich gerne mit in die Welt der Strategieberatung nehmen und Dir die typischen Herausforderungen im Berateralltag vorstellen. Dabei wirst Du die Gelegenheit haben, einen Einblick in den Projektablauf zu erhalten, den Team-Alltag näher kennenzulernen und das Stakeholder-Management bei einem internationalen E-Commerce Händler zu verstehen.
Wir freuen uns auf einen spannenden Austausch mit Dir in lockerer Atmosphäre!
Melde Dich bis zum 28. April an und sei auf ein Snack-Paket für das gemeinsame Picknick gespannt!
Die Teilnehmerzahl ist begrenzt, so better be quick.
Datenschutzhinweis: Mit der Anmeldung erklärt ihr euch bereit, dass wir eure Adresse für das Zusenden eines Pakets nutzen. Prüft daher bitte, ob die im System hinterlegte Adresse aktuell ist.