Exciting projectswith an international flair
The PIM & CEMS Club offers its members the opportunity to get involved in many areas of the club's activities.
Would you be interested in supporting guest students, organising events, working on corporate relations, or would you prefer to write an article for our club magazine?
At the PIMS & CEMS Club you can demonstrate your skills and abilities in numerous ways!
What's more, the work at PIMS & CEMS Club is a lot of fun! Many friendships have blossomed through the collaborative work at the club, encouraging members of the club to involve themselves time and time again.
All doors are open to committed members – how can you contribute
As a member, the opportunities of participation range from taking part in discussions to contributing to individual events, to the independent management of projects, all the way to a full role in the management board.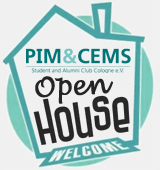 We invite all members and prospective members to our club meeting that takes place on the first Monday of every month in the premises of the club. In addition, everyone is welcome to contact a current member of the management board via email or Facebook. Current opportunities are also constantly announced on either the homepage or on the Facebook Group "PIM & CEMS Staff, Organisation and Events".