Deadline: Wed, 31.08.2022
Participation is free of charge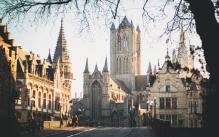 Explore Ghent and meet your cohort!
Only For Members
Download to Calendar
30. September 2022, 09:30 - 02. October 2022, 14:00
Disclaimer: The CEMS Welcome Weekend is a CEMS exclusive event, please only register if you are a CEMS student, thank you!
This semester our traditional CEMS Welcome Weekend will take place in the beautiful city of Ghent, Belgium from September 30th – October 2nd! It is a breathtaking place with a marvelous old city center and the Welcome Weekend will be the perfect opportunity to bond with your fellow CEMSies. There will be many fun activities like games, pub crawls and club visits – so don't miss out!
We will stay at the De Draecke Hostel, which is right in the city center. We travel by bus together from Cologne on Friday at 9.30 am and arrive back in Cologne on Sunday in the early afternoon. The participation fee is 80€ and includes the room, transportation, breakfast and several events like a guided city tour!
Please register by August 31st on our website! Afterwards, we will send you an e-mail stating whether you were able to secure a spot, including further details such as payment information. All CEMS students can register, but MIM-year students and incomings will be prioritized so they get the chance to better get to know each other and our CEMS Club! For all others it is first come, first serve – so do not hesitate! Looking forward to an amazing weekend!
Zülpicher Str. 28, Köln, 50674