Deadline: Sun, 06.11.2022
Participation is free of charge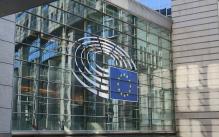 Visit Brussels with CC RSM & LSM
Only For Members
Download to Calendar
09. December 2022, 12:00 - 10. December 2022, 15:00
Dear CEMSies,
it is my great pleasure to announce that we will host a cross-club event this December. We will meet with the cohort from RSM and LSM in Brussels for a Christmas Dinner and a visit to the European Parliament. The timing is between the two big first-year exams, so it is perfect to take your mind off things for one night.
When: December 9+10
Where: Brussels
Besides registering for the event on the website, please also fill out the following form by November 6! Google Form
The total cost for transportation, one night at a hostel, and dinner will be approximately 80€, but exact details can only be shared after we have the final list of participants. This is truly a unique experience and a great chance to meet CEMSies from other schools, so don't miss out!
Hope to see you there!
Zülpicher str 28, Brussels, 00000