Deadline: Sun, 15.01.2023
Participation is free of charge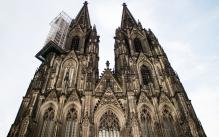 Hosting CC RSM & LSM for Carnival
Only For Members
Download to Calendar
19. February 2023, 15:00 - 20. February 2023, 15:00
Dear CEMSies,
it is my great pleasure to announce that we will host a cross-club event this Carnival here in Cologne! We will meet with the cohort from RSM and LSM for a joint dinner and visit to the Rose Monday Parade. Depending on when the other students arrive, there might also be time for some sightseeing together and as always there is the option to party!
When: February 19+20
Where: Cologne
To help us plan, please sign up for the event here and fill out the following form by January 15 to let us know what events you are generally interested in joining: Click here!
Further details about the schedule will be shared once we have the final list of participants.
This is truly a unique experience and a great chance to meet CEMSies from other schools, so don't miss out! Let's show them what Carnival here in Cologne is all about!
Hope to see you many of you there!

Zülpicher Str 28, Köln, 50674