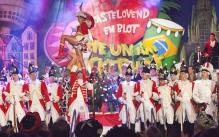 Get ready to dance, party, and celebrate tradition at the amazing Medizinerball!
Only For Members
Download to Calendar
17. February 2023, 20:00 - 00:00
One of the most beautiful balls in Cologne carnival is back in 2023, with fabulous costumes and non-stop partying. The event will be held at the stunning Gürzenich in Cologne, with music on multiple stages and performances that capture the true spirit of the carnival.
WHEN: Friday 17th of February - 20:00
WHERE: Gürzenich (Martinstraße 29-37, 50667 Köln)
DRESS CODE: Carnival costume

TICKET SALE
PIM&CEMS is honored to be one of the few authorized resellers for pre-sale tickets.
Student tickets are priced at 28 Euro, while alumni tickets are priced at 35 Euro.
Payments will be accepted via paypal and via cash - ON SITE.
ATTENTION: NO RESERVATION IS POSSIBLE. Tickets will be sold in person and given on a first come, first serve basis.

Tickets sale pick-up will be possible only in person, starting from the 12th of January.
Students and Alumni can pick-up their tickets and pay via cash/paypal during
- the Open House the 1th of February.
- Karaoke Night the 9th of February.
Other dates will be announced.

SPECIAL: ALUMNI GIVEAWAY
This year we decided to gift a randomly selected Alumna or Alumnus with 2 FREE TICKETS for the Medizinerball!

To participate in the giveaway you:
✔️ Must be registered as "Alumnus" or "Alumna" in our system: check and/or update your current status HERE
✔️ Must reply to the entirety of the following survey: LINK TO THE SURVEY
The winner will be elected and announced the 10th of February!
In case of previous tickets bought, the option will be given to either have 2 free tickets more on top of the ones bought, or to get a refund for 2 Alumni tickets bought.
PRE-PARTY
We will gather together and go to the Medizinerball as a group.
WHEN: 16:00
WHERE: PIM & CEMS Club, Zülpicher Str. 28, 50674 Köln (next to Habibi)

Entrance will be only allowed with a physical ticket, so don't forget to bring yours!
We are happy to revive this Cologne tradition with you again!
Put your best costumes and don't miss out on this unforgettable evening of celebration!

Official Website: https://www.festausschuss-medizinerball.de/
For further inquiries about ticket sale, contact: finance@pimandcems.de
Martinstraße 29-37, Köln, 50667