Deadline: Mon, 26.04.2021
Participants : 3/20
Participation is liable to costs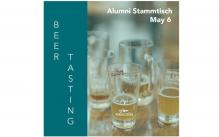 Fun Craft Beer Tasting for Alumni
Only For Members
Download to Calendar
06. May 2021, 20:00 - 22:00
Gather around the virtual beer tap and sign up for May's Alumni Stammtisch!

This month an official beer ambassador will introduce you to five special craft beers and their sensory characteristics, while giving you exciting insights into the world of beer. From the main ingredients to the brewing process to its historical background – at the end of the evening you will be an expert on everything you need to know. Additionally, this beer tasting is filled with all kinds of interesting and amusing stories about the oldest cultural beverage in the world.

Sign up now for a fun night and to receive a box of five handpicked craft beers delivered to your door. The price for this event amounts to 30€.

See you then and "Cheers"!

Please note: This event is for Alumni only. All participants must make sure that the address in their PIM & CEMS Account is correct, as this is where we will send the beer to.