Deadline: Tue, 06.04.2021
Participants : 16/20
Participation is liable to costs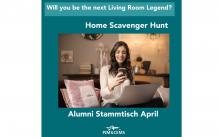 Get ready for a night filled with riddles, fun and laughter!
Only For Members
Download to Calendar
08. April 2021, 20:00 - 22:00
Hi Hunters!
This month's Alumni Stammtisch is a fun packed virtual scavenger hunt for quick thinkers and adventurers. And the clues start now…
All you will need to bring to the event are:
-any beverage of your choice
-your creativity
-your sense of adventure
-a "spirit thrower" (a pom-pom or anything visual at all - to take the place of loud cheering!)
For those of you who can't wait to get started and want to earn a few extra points, there is an optional early bonus mission!
Pick a representative from your group to send a private message with the password "random" to @katshuntclub on Instagram or @alleykatadventures on Facebook. What's important: Be sure to tell your host or cohost early on in the game that you accomplished this feat and to use your phone to show fellow partipants your awesomeness...
We are looking forward to welcoming many of you on April 8th, 2021 at 8 pm. Please register for the event by April 6th, 2021. Tickets will be 5€.
Happy Hunting!
Please note: This event is also for students.