Deadline: Thu, 28.01.2021
Participants : 13/15
Participation is liable to costs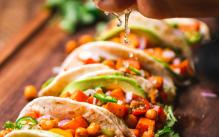 Enjoy a nice evening preparing home-made authentic Mexican tacos!
Only For Members
Download to Calendar
04. February 2021, 20:00 - 22:00
This month's Alumni Stammtisch will take you to Mexico – at least virtually!
In an online cooking session with Mexican Chef Graciela you will learn how to make authentic Mexican street tacos from scratch with a traditional red salsa, taco filling, and flour tortillas.
Be sure to sign up quickly as there are only limited spaces available. Don't miss out on a great evening and sign up until January 28th.
Tickets will be 5€ per participant. Please note that you will receive a list of ingredients in advance so that you can get the ingredients in time for the event.
We are looking forward to the Mexican fiesta with you!
Please note: this event is for alumni only.
Online, Meeting, Zoom, 00000