Deadline: Fr, 29.06.2018
Teilnehmeranzahl : 142/300
Teilnahme ist kostenpflichtig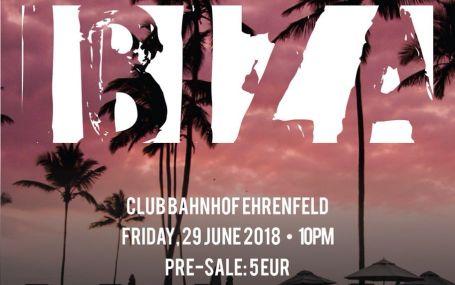 Summer Party 2018! This year's motto: One Night in Ibiza
Kalendereintrag herunterladen
29. Juni 2018, 22:00 Uhr - 30. Juni 2018, 05:00 Uhr
Hello Party People,
this is Captain Kim speaking. Welcome aboard Venga Airways. After take-off we'll pump up the sound system.
Cause we're going to Ibiza!
Are you in a party mood? So we are! With our partners, we are delighted to announce the next edition of our legendary Summer Party!
Get ready for the PIM & CEMS Summer Party 2018 and join us on our one night journey to urban Ibiza.
Awesome specials are waiting for you – don't miss the best international party of the year.

► When? Friday, June 29th, 10 pm
► Where? Club Bahnhof Ehrenfeld
► First Floor: Reggeaton, Summer & Charts
► Second Floor: Techhouse, Deephouse
How to get your ticket:
Option 1: ONLINE - Reserve your ticket right here and right now --> you'll be put on the guest list and receive your ticket at the entrance! https://pimandcems.de/event/pim-cems-summer-party-one-night-in-ibiza

Option 2: REGULAR PRESALE (5€ per Ticket)
- Starting from 04.06.2018, you can buy a ticket at the Fachschaft WiSo (Universitätsstraße 16b, 50937 Köln). Opened from 09:45 am to 15:45 pm during the week (On Friday until 13:45).
OR:
- Wednesday June, 20thtil Friday June 22th from 10am – 2pm and
Monday June, 25thtil Wednesday June, 27th from 10am – 2pm at WISO SCHLAUCH (between Main Building and WISO) and Mensa

Option 3: BOX-OFFICE (Abendkasse) 8€★

+++++
★ FREE BEERPONG CONTEST (till 11:30 pm)
★ FREE WELCOME SHOT
★ STUDENT FRIENDLY PRICES
Thanks to all of our partners:
Zeb, Fachschaft WiSo, Le Debut, Erasmus Student Network & Entrepreneurs Club Cologne
Bartholomäus-Schink-Straße 67, Köln, 50825