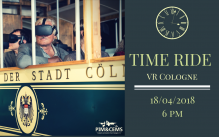 TimeRide VR Cologne April, 18th 2018
18. April 2018, 18:00 - 23:00 Uhr
The Global Alumni Week (GAW) is a globally organized week of activities involving all CEMS stakeholders, CEMS Alumni, Students, Academic Members, Corporate and Social Partners, with a special focus on engaging alumni with the CEMS community. During this week the PIM&CEMS Club wants to offer you various events:
Join us on a journey into the past and experience life in Cologne at the beginning of the 20th century! TimeRide VR Cologne gives you the chance to discover historical Cologne thanks to virtual reality. After learning everything about Cologne from its beginning in the Roman era through medieval times, you can travel in a historical tram and enjoy the VR trip through the city.
Afterwards we will end the night with a visit in typical Brauhaus in the oldtown.
We are looking forward to seeing you all in April!
Price: 8€/person for TimeRide VR
Time: 6:00 pm - 11:00 pm
Alter Markt 36, Köln, 50667
Dieser Event ist bereits vorbei
Möchtest Du Dich zur Veranstaltung anmelden?