Deadline: So, 18.10.2020
Teilnahme ist kostenlos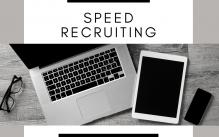 Participate in the 11th edition of PIM&CEMS exclusive Speed Recruiting!
Nur Club-Mitglieder
Kalendereintrag herunterladen
29. Oktober 2020, 18:00 - 22:00 Uhr
Dear members,
as every year, it is now time to join our exclusive event for the winter term! The PIM&CEMS Speed Recruiting will take place for the 11th time this October! What is special is that this year will be a premiere for the first virtual speed recruiting via Zoom!
6 corporate partners will join the Speed Recruitment this year: Barilla, Henkel, KPMG, Kraft Heinz, P&G, OBI and the Center Strategic Projects from Telekom.
What's the benefit to attend?
You can get the unique chance to meet different companies at the same time.
You can get to know our corporate partners better during the company introduction session.
You will have short interviews with some of them and get further information about chances starting an internship or graduate programs with them.
You can find out more detailed information about the company in terms of culture and the responsibility of certain department.
You can also practice your interview skills.
If any of these points are meeting your needs, don't hesitate to attend this year's Speed Recruiting.
After the interviews, we will have a networking round via zoom with open breakout sessions, during which you will have the chance to get to know the companies better and further connect with them.
To keep the vibe of the tradition, we have prepared a surprise package for all the participants! Further information will be communicated at a later stage. If you are curious about the "surprise", don't forget to sign up today!