Deadline: Mo, 10.05.2021
Teilnahme ist kostenlos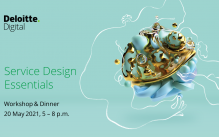 Corporate Workshop with Deloitte Digital
Nur Club-Mitglieder
Kalendereintrag herunterladen
20. Mai 2021, 17:00 - 20:00 Uhr
Get to know Deloitte Digital during an insightful workshop followed by a casual dinner on 20 May 2021 at 5 p.m. Find out what Service Design is all about and learn how we apply the methodology to create outstanding digital experiences that add value to customers and businesses alike. Through real-world show cases, we will demonstrate how to solve complex challenges and provide you with the most relevant hands-on skills. Afterwards, we will have a casual dinner where you can ask all of your questions regarding career opportunities, the daily life of a consultant, making an impact at Deloitte, diversity and any other topic you are interested in.
Sign up for the great networking opportunity until 10 May 2021. Since spots are limited, we recommend early registration.
We are looking forward to get to know you!
Online, Online, Online, 00000