SAMP - Student-Alumni-Mentorship-Program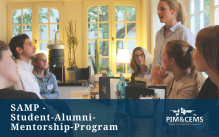 Apply for the Student-Alumni-Mentorship-Program until 14th of April 2019!
Nur Club-Mitglieder
14. April 2019, 03:00 - 23:59 Uhr
The Student-Alumni-Mentorship-Program gives Alumni and Students the unique opportunity to share experiences and learn from each other.
What is it exactly?
1 year partnership between a student and a mentor who is an alumni of the club. At the Kick Off Event all participants (students and alumni) come together, get to know each other and spend a nice evening. The exact date of the Kick Off Event will be announced soon! Afterwards, it is up to your mentor and you how often you communicate and how you communicate.
What are your benefits as a student?
You get advice for your career planning or even get an internship at the company of your mentor!
Possible ways how you can benefit:
- ask mentor to review your cover letter for an application
- information about mentor's work experience in different companies
- information about semester abroad
How can I apply?
Register below with your CV if you´re interested in participating in the program.
Here you can find more information on the availble mentors. See which mentors are on board this year!
For Alumni:
You can still apply to become a mentor! If you are interested, follow the link below, fill in the form (English or German) and send it to victoria.faber@pimandcems.de.
SAMP Mentor Application Form 2019
Zülpicher Straße 28, Köln, 50674
Teilnahme nur für Club-Mitglieder
Möchtest Du Dich zur Veranstaltung anmelden?