SAMP - Student-Alumni-Mentorship-Program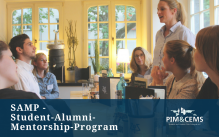 Apply for the Student-Alumni-Mentorship-Program until 25th of March 2018!
Nur Club-Mitglieder
26. März 2018, 00:00 - 00:00 Uhr
The Student-Alumni-Mentorship-Program gives Alumni and Students the unique opportunity to share experiences, learn from each other and enjoy a nice evening. After evaluating all applications and matching students and alumni, all participants will meet at a kick-off event. The exact date will be announced soon!
For Alumni:
If you are interested in being a mentor, follow the link below, fill in the form (English or German) and send it to caroline.haak@pimandcems.de until 25th of March 2018
SAMP Mentor Application Form 2018
For Students:
Register below with your CV if you´re interested in participating in the program. Once the mentor registration is finished, you receive a list of all mentors and can state your preferences. Afterwards we will match mentors and students and invite you to the Kick-Off event in April/May.
Zülpicher Straße 28, Köln, 50674
Teilnahme nur für Club-Mitglieder
Möchtest Du Dich zur Veranstaltung anmelden?