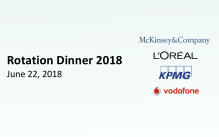 Meet our corporate partners McKinsey&Company, KPMG, Vodafone and L'Oréal at the Rotation Dinner
Nur Club-Mitglieder
22. Juni 2018, 18:30 - 23:59 Uhr
Rotation Dinner 2018
Finally, it is time for another much anticipated Rotation Dinner.
Join us and get to know our corporate partners from different industries in a cozy atmosphere. The dinner will take place in the renown Osman 30, in the media tower, featuring an astonishig view over Cologne. During the rotation dinner you will rotate to a different table after every course. Meeting another company every time, giving you the chance to network and dive into the respective culture as well as career opportunities.
This year, you will get the chance to meet all our corporate partners McKinsey&Company, KPMG, Vodafone and L'Oréal.
Interested? Register now to apply for the event. Please include your current GPA in the CV.
Im Mediapark 8, Köln, 50670
Teilnahme nur für Club-Mitglieder
Möchtest Du Dich zur Veranstaltung anmelden?