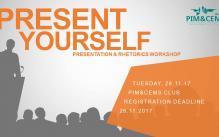 Present (yourself) – Presentation & Rhetorics Workshop
Nur Club-Mitglieder
28. November 2017, 17:00 - 20:00 Uhr
You want to train your presentation style? In this fun-filled workshop we are going to do exactly that!
Pitching, PowerPoint Karaoke, and video analysis are only some of the things we are going to do in order to boost not only our presentations, but our rhetoric style in general.
This event will be conducted by our more experienced members and is open to all PIM&CEMS members. Join us and improve the key skills to successful internships and career starts!
The workshop will take place on Tuesday, 28th of November at 5 pm in the PIM & CEMS Club. Snacks will be provided. We are going to hold it in English so that everyone can participate and (as a bonus) it might be a nice opportunity to practice your your presentation skills in english, which you are going to need once you get to your thesis.
Zülpicher Straße 28, Köln, 50674
Teilnahme nur für Club-Mitglieder
Möchtest Du Dich zur Veranstaltung anmelden?