PIM&CEMS Alumni go Paintball!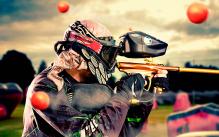 Paintball with your fellow PIM&CEMsies!
Nur Club-Mitglieder
25. Mai 2019, 15:00 - 19:00 Uhr
PIM&CEMS Alumni go Paintball!
What?
Get ready! For our next social event, we will go and play Paintball. The event is open for alumni (& friends). We will sponsor some paintballs!
The package includes:
- Introduction & support by experienced staff
- Protection (gloves, face mask, neck ring, breast/back plates)
- Weapons & 200x paintballs (+ extra equipment per team)
Price: 30€ / Person (Club member / CAA member), 35€ / Person (others)
When? 25.05.2017, 3pm – 7pm
Where? Paintball Fun Cologne GmbH, Brucknerstr. 99, 51145 Köln
In case you have any questions, please contact me: julia.winderling@pimandcems.de
Brucknerstr. 99, Köln, 51145
Teilnahme nur für Club-Mitglieder
Möchtest Du Dich zur Veranstaltung anmelden?