Deadline: Di, 02.04.2019
Teilnahme ist kostenlos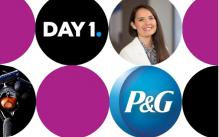 Visit P&G's German HQ at 17th of April to get to know P&G
Nur Club-Mitglieder
Kalendereintrag herunterladen
17. April 2019, 08:00 - 18:00 Uhr
Future creators, leaders, and innovators: Take your chance! Visit P&G's German HQ during our multifunctional office day event. Meet our lead team, have a 1:1 lunch with a P&Ger from a function you're interested in, get to know how we work in a multifunctional case study and ask all your questions!
To take part in this event, please apply with your CV (English or German, no cover letter) latest by April,2nd. The event is open to all PIM & CEMS Club members of all functions which are at least in the 4th semester of their Bachelor studies.
After the deadline, P&G will select the participants who will then receive a confirmation mail with a list attached, where you can indicate in which of the functions (Marketing, Sales, Finance & Accounting, Supply Network Operations, Analytics & Insights, Information Technology and Human Resources) you're interested in (preferred choice and one alternative). We will try our best to match you with a fitting lunch partner. We are excited to meet you!
Note: P&G's DACH Headquarter is located in Schwalbach am Taunus near Frankfurt. We will arrange a bus transport which is free of charge for you. We will meet in front of the PIM&CEMS Club (Zülpicher Straße 28) at 7:45am and depart from there at 8:00am. Further information will follow.
P&G is a leading global consumer goods companies with more than 96.000 employees, $65 billion net sales, and over 21 billion-dollar-brands (e.g. Pampers, Gillette, Ariel, Oral-B).
We hire based on potential, so we trust you to dive right in, lead, and to show initiative. From Day 1, you'll be immersed in a leadership-driven culture, and be given real responsibility, as well as first-class training and coaching.
Sulzbacher Straße 40-50, Schwalbach am Taunus, 65824