NEW PIM&CEMS hoodies for Sale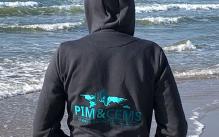 Get your NEW PIM & CEMS Club Cologne Hoodie
15. Dezember 2018, 00:00 - 00:00 Uhr
NEW HOODIE JACKETS FOR SALE
Get your PIM & CEMS Club hoodie jacket now. We redesigned and improved the quality for you. For just 30 Euros it becomes part of your wardrobe (all men and women sizes available). Pick up your hoodie at our Open Houses or make an appointment with us.
The color of the jackets is dark grey (q.v. picture). It has embroideries in front as well as on the back carrying the logo of our beloved PIM & CEMS Club Cologne.
If you want us to ship the hoodies to you, let us know and please send an E-Mail to club@pimandcems.de. There will be a 10€ shipping fee for nationals shipping and 15€ for international shipping.
Zülpicher Straße 28, Köln, 50674
Dieser Event ist bereits vorbei
Möchtest Du Dich zur Veranstaltung anmelden?