Deadline: Di, 05.10.2021
Teilnahme ist kostenlos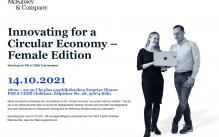 Workshop with Surprise Dinner
Nur Club-Mitglieder
Kalendereintrag herunterladen
14. Oktober 2021, 18:00 - 20:30 Uhr
Join our workshop to get first-hand insights into the 'Circular Economy'. Immerse yourself in the work of a consultant on one of the most pressing topics of our time and take the opportunity to talk to McKinsey consultants over dinner in a relaxed atmosphere.

Apply by 05.10.2021: With a meaningful CV via the PIM & CEMS website.
Please note that places are limited. This will be a 3G event (EU approved vaccinations, recovered and Schnelltest no older than 6h).
Data protection note: With uploading your CV, you agree that we will screen your CVs and forward them to McKinsey. You can find McKinsey's data protection agreement here: https://www.mckinsey.com/privacy-policy/de-de
Zülpicher Str 28, Cologne, 50676