Deadline: Fr, 18.10.2019
Teilnahme ist kostenlos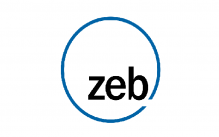 Learn more about your personality and get to know zeb at our workshop on 25th of October!
Kalendereintrag herunterladen
25. Oktober 2019, 10:00 - 15:00 Uhr
No matter where you will work, you're going to have clients and work colleagues you get along with and those you could get along without. But did you know that you hold the key to working well with all of them? It comes from discovering how to harness the power of personality.
Join our management-oriented communication workshop where you will have the chance to:
- Take a personality test and see which temperament you have
- Get insights into all four fundamental temperaments and understand how people think and act based on their personalities
- Finally, learn how to work and communicate well with your (future) clients on a management level by practicing on a real-life case
Interested in learning more about your personality and get to know zeb? Then apply for this workshop with your CV (including current grades from studies) until 15th of October 2019 via our website!
Zülpicher Straße 28, Köln, 50674