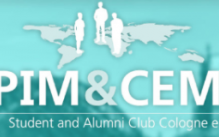 General Meeting of the PIM & CEMS Club
16. Dezember 2017, 12:00 - 15:00 Uhr
We would like to invite you to our annual general meeting (JHV) of the PIM & CEMS Club! The meeting will take place on Saturday, December 16th, 2017 at 12pm in our club rooms (Zülpicher Str. 58).

We will have several topics on our agenda:
1. Welcome
2. End-of-the-year Review
2.1 General
2.2 Departments
3. Financial Report
4. Election of the cash auditor
5. Discharge of the Board 2017
6. Election of the Board 2018
In order to simplify the organization, we would like you to register until December 10th.

***Unfortunately, the general meeting has to be held in German according to German law***

We hope to see many of you on December 16th,

Anna, Anton, Alexander, Cornelius, Jannik, Max and Nazeerah

Zülpicher Straße 28, Koeln, 50674
Dieser Event ist bereits vorbei
Möchtest Du Dich zur Veranstaltung anmelden?