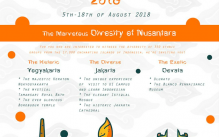 IW Indonesia 05.08.2018 - 18.08.2018
Nur Club-Mitglieder
05. August 2018, 00:00 Uhr - 18. August 2018, 00:00 Uhr
Apply now for International Week Indonesia 2018!
IW Indonesia will take place from August 5th to 18th, 2018!
Explore Indonesian culture in one unforgettable experience!
For further information regarding program and application please contact us via internationalweek@pimandcems.de until May 23rd!
About the week
Indonesia International Week (IIW) is one of the annual events held by Indonesian Students Association for International Studies (ISAFIS). We annually invite 20 participants from various countries to learn about Indonesia holistically, including society, politics, economics, nature, culture, and much more. Indonesia IW will definitely give you an opportunity to expand your network and enhance the knowledge while having an unforgettable summertime in The Equator, Indonesia.
Highlights Included
Participants will explore the beauty of Indonesia in many aspects. We will explore four big cities in Indonesia, namely Jakarta, Bandung, Jogjakarta, and Bali. Enjoy the vibrant and most productive capital of Indonesia, Jakarta. Also, have a step back to see the historical Pasundan Land, Bandung. Experiencing the atmosphere of local heritage, Jogjakarta. And, last but not least, having your best summer experience in The Land of Paradise, Bali.
Participants will experience living like a local by staying with their Indonesia family, seeing how the Indonesian government works, visiting Indonesia's most leading companies, tasting authentic Indonesian food, visiting the historical and the phenomenal world public attraction such as Borobudur (World's biggest Buddhist Temple, all made by hand!), discovering the beauty of Indonesian beaches, getting tanned, and the most important is experiencing the Independence Day with locals! Indonesia IW will make you never forget about Indonesia.
Attention: This IW requires a participation fee of 250 USD!
For more information go to:
Indonesian Student Associiation for International Studies (ISAFIS)
Zülpicher Straße 28, Köln, 50674
Teilnahme nur für Club-Mitglieder
Möchtest Du Dich zur Veranstaltung anmelden?