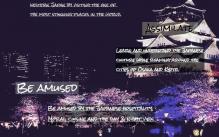 International Week West Japan 02.09.2019 - 08.09.2019
Nur Club-Mitglieder
Kalendereintrag herunterladen
02. September 2019, 00:00 Uhr - 08. September 2019, 23:59 Uhr
This year's version of IW West Japan will take place in the big cities of West Japan like Osaka, Kobe and Kyoto. The IWWJ organizers will show you around!
This year's theme is "experience". Use your chance to experience the busy life of Osaka and the calm summer breeze of the mountains in Kyoto. Explore new things, places and people! As a participant of IWWJ you will have the chance to get to know each other during the welcoming party.
Afterwards you will explore from a Japanese point of view by riding a city train and walking on a high pace in the metropols in the region. Besides all the fun you will get familiar with not only the local organizers, but also with the culture and traditions of Japan. It will be a great way to enhance your cultural understanding.
The Japanese delegation will welcome you with their famous "Omotenashi" culture (the Japanese way of welcoming).
For everybody who is eager to find out more about Japan and explore its culture in one unforgetable experience, this is your chance!
For further information regarding the program please contact us via internationalweek@pimandcems.de by June 23rd, 23:59.
Zülpicher Straße 28, Köln, 50674