International Week West Japan 2018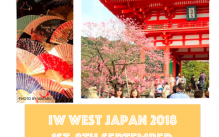 International Week West Japan 01.09.2018-08.09.2018
Nur Club-Mitglieder
01. September 2018, 00:00 Uhr - 08. September 2018, 23:59 Uhr
Apply now for International Week West Japan 2018!
West Japan IW will take place from September 1st to 8th, 2018!
Explore Japanese culture in one unforgettable experience!
About the week
One week of spending time in West Japan. Our aim is to feel the Japanese tradition by company visit, experience life of the local students, and history. International Week West Japan is organized and hosted by members of I.S.A. Come join us at International Week West Japan!
Highlights Included
Company Visit to toilet Company TOTO
Visit Osaka Castle
Mission game in Gion
Dance with Youth Theatre Japan
Cook Shiratama
For further information regarding program and application please contact us via internationalweek@pimandcems.de until May 30th!
Zülpicher Straße 28, Köln, 50674
Möchtest Du Dich zur Veranstaltung anmelden?