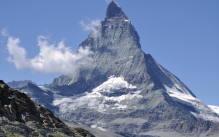 IW Switzerland will take place from 28th March until 5th April 2023.
Nur Club-Mitglieder
Kalendereintrag herunterladen
28. März 2023, 00:00 Uhr - 05. April 2023, 00:00 Uhr
We are happy to open the application for IW Switzerland 2023!!!
IW Switzerland will take place from Tuesday 28th March until Wednesday 5th April 2023
What to expect? Get ready for a week full of Swiss life and exciting activities!
Academic & Business Highlights:
During IW Switzerland you will have the opportunity to get to know the university of St. Gallen, one of Europe's best business schools. In addition to that, we have organised exciting company visits for you!
Trip out of town:
Explore other Swiss cities like Zurich, our capital Bern, Lucerne or Geneva with us. Get to know Swiss mountains and lakes on hikes and boat tours. We will also show you the Swiss night life!
Cultural Highlights:
Get a taste of Switzerland: join us on a local chocolate or cheese factory tour inclusive tasting and come with is to a Swiss vineyard.
If you are interested, please write an E-Mail to internationalweek@pimandcems.de and we are happy to provide you with more details about the concept of an International Week and the application prodecure.
Application Deadline: 29th of January 2023