International Week Holland 2018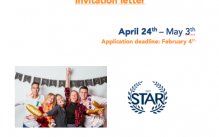 International Week Holland 24.04. - 03.05.2018
Nur Club-Mitglieder
24. April 2018, 00:00 Uhr - 03. Mai 2018, 23:59 Uhr
Apply now for International Week Holland 2018!

Holland IW will take place from April 24th to May 3rd, 2018!
Explore Dutch culture in one unforgettable experience!
About the week
This is an International Week you have never experienced before. By combining the strengths of the biggest cities in the Netherlands, we will show you the most amazing parts of our country! First, you will stay in the world's famous city, Amsterdam, famous for its canals, diversity and amazing parties, this will be a great start of the International Week. Besides that, you will celebrate the biggest open air party of Europe during your stay in Amsterdam, called Kingsday! During the birthday of our King, the entire country will change into one orange madness that you will never forget!
After some days in Amsterdam, you will travel to Rotterdam for another couple of days, where you will explore a new city, which has been rebuild after the Second World War, famous for its modern architecture and biggest port of Europe. Also, you will visit the famous windmills of Kinderdijk and get to know the city with a Dutch game. We will also give you an insight into the Dutch traditions, with our traditional day which includes all kinds of activities and games. Finally, you will end the week with the unforgettable International Dinner!
Highlights Included
- City tour Amsterdam
- Kingsday in Amsterdam
- Traditional day in Rotterdam
- Visit the Euromast in Rotterdam, which will give you a beautiful view over Rotterdam
- Company visits
- Awesome parties in both cities
- International Dinner
For further information regarding program and application please contact us via internationalweek@pimandcems.de until February, 2nd!
Zülpicher Straße 28, Köln, 50674
Möchtest Du Dich zur Veranstaltung anmelden?