International Week Exeter 2018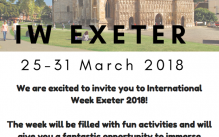 International Week Exeter 25.03.2018 - 31.03.2018
Nur Club-Mitglieder
25. März 2018, 00:00 Uhr - 31. März 2018, 23:59 Uhr
Apply now for INTERNATIONAL WEEK EXETER 2018 which will take place from March 25th to 31st, 2018.

Get to know the city where J.K.Rowling studied and experience English culture in one unforgettable week! Lots of interesting activities are waiting for YOU!
About the week
The IW Exeter is organised by students from the University of Exeter that are excited to show the South-West of England as well as the University. The week is for 15-20 participants that want to be a part of this adventure and get a glimpse of the English Culture and traditions. The participants will be experiencing the countryside of Devon, the traditional 'Cream Tea' as well as a visit to the Exeter Cathedral. They will also have the chance to get a taste of the Exeter University life as all the hosts will be students. JK Rowling, author of the world famous Harry Potter books is an alumni of the University of Exeter. Many of the places in the book were inspired by the city and university of Exeter, such as 'Diagon Alley' and 'The Leaky Cauldron' which are believed to have been based on landmarks and buildings in Exeter. You will get the chance to see all of these during your week! This is a fantastic opportunity for you to experience one of the most beautiful and traditional cities in England.
Highlights Included
- English "Cream Tea"
- Trip to the countryside of Devon
- Traditional English Folk Dancing Evening
- Local Company Visits
- International Dinner
- Cathedral Visit
For further information regarding program and application please contact us via internationalweek@pimandcems.de until January 20th!
If you would like to know how the IW was previously, write us an email and we will send you a review from our last participant!
Zülpicher Straße 28, Köln, 50674
Möchtest Du Dich zur Veranstaltung anmelden?