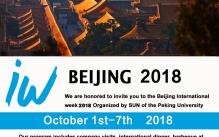 International Week Beijing 01.10.2018 - 07.10.2018
Nur Club-Mitglieder
Kalendereintrag herunterladen
01. Oktober 2018, 00:00 Uhr - 07. Oktober 2018, 23:59 Uhr
Apply now for International Week Bejing 2018!
IW Bejing will take place from October 1st to 7th, 2018!
Explore Chinese culture in one unforgettable experience!
About the week
Since most students in PKU do not live in Beijing, there are no hosts and all the participants will live in a hotel during IW Beijng. All the activities will take place in the city and suburbs of Beijing. The aim of our IW is to provide an opportunity for participants to get to know China's culture, history, politics, economics, education etc, and to experience a real Chinese life, to see the beautiful scenery and to make friends from different countries.
Highlights Included
Visit to the Great Wall and the Forbidden City
National Museum
798 art zone
Trip to the suburb of Beijing to climb Mutianyu Great Wall
Visit an ancient temple namely Hongluo and appreciate the beautiful scenery of Qinglong Valley
Tian'anmen Square
Olympic Center
Visit Peking university
A famous company about electronics
During this week, participants can see an ancient Beijing, a modern Beijing, a multi-cultural Beijing and a real Beijing!
ATTENTION: Please be aware that during this IW a participation fee of 124 USD is required!
For further information regarding program and application please contact us via internationalweek@pimandcems.de until July 13th!
Zülpicher Straße 28, Köln, 50674