Deadline: Mo, 23.09.2019
Teilnehmeranzahl : 9/20
Teilnahme ist kostenpflichtig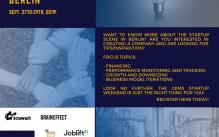 CEMS Startup Weekend Berlin September 2019
Kalendereintrag herunterladen
27. September 2019, 18:00 Uhr - 29. September 2019, 17:00 Uhr
++++FOR ALL ALUMNI, NOT ONLY CEMS ALUMNI++++
**************************************************************

We are excited to officially announce the dates of the Berlin Startup Weekend 2019!

From September 27-29, 2019, the startup weekend will hold an exciting program consisting of a range of company visits to diverse and high-profile startups and companies in and from Berlin.

Immerse yourself into the Berlin startup scene. Network with fellow CEMSies and companies and find out more about possible job opportunities here.

We will visit:

(1) Joblift: https://joblift.de/
Founded by CEMS alumni Lukas Erlebach, Joblift is a job search platform providing candidates with jobs sourced from thousands of job boards, employers and staffing firms by applying latest machine learning techniques and big data-based algorithms. Currently active in five countries, Joblift cooperates with over 4.000 partners to incorporate over 10 million vacancies on their platform.

(2) koawach: https://koawach.de/
The refreshing cocoa revolution! Koawach is the brand for delicious cocoa powder and to-go chocolate drinks with natural caffeine from guarana– energetic, 100% natural and fair traded. Thus every to-go drink and with every package of cocoa powder helps to sustainably improve the living and working conditions of the producers in South America.

(3) On Purpose Berlin: https://onpurpose.org/en/
On Purpose has the mission is to create an economy that is equitable and sustainable in the long-term. Through the development of leadership for the impact economy and by helping to accelerate the shift towards purpose-led business (as opposed to profit-led business), their community of approx. 2,000 people and organisations create positive social and environmental change.

(4) heycater: https://www.heycater.com/de
heycater! was founded by CEMS alumni Therese Kö and is THE marketplace for ordering quality business catering online. The company supports in organizing delicious food for teams and events by connecting outstanding local caterers to businesses and event planners.
(5) BRAINEFFECT: https://www.brain-effect.com/
"Success begins in the mind". BRAINEFFECT was founded in 2015 by theformer competitive athlete Fabian Foelsch together with the Berlin investor Schober Ventures. The company develops and sells high-quality performance food products to optimize mental and physical performanceof office athletes, sportspeople and everyday heroes. Today BRAINEFFECT employs a team of over 25 people and is one of the leading brands for performance food in Germany.
(6) JoinAG: https://join.com/
Hiring shouldn't be difficult or time-consuming, which is why Tim Ruffner and ManojHarasgama, CEMS alumnus, decided to build JOIN from the ground up and to catapult recruiting to the next level. JOIN not only makes hiring smarter, easier and more efficient but accelerates and simplifies the recruiting process, whilst –as a freemium tool –massively reducing costs at the same time.The company has scaled rapidly, attracting thousands of corporate clients across Europe and globally and tens of thousands of candidates trusting our product within a year since inception, makingJOIN.comon some levels the fastest growing HR Tech startup on the market –ready to conquer the HR world by storm.
(7) Goodpatch: http://goodpatch.com/
Creating lovable products is at the core of Goodpatch's DNA. Goodpatch is an independent design company founded in 2011 by Naofumi Tsuchiya after he moved back to Tokyo from Silicon Valley. The company is driven by the mission to prove the power of design,and so its offer includes user research, strategy, UX/UI design and the development of apps and immersive AR/VR experiences. All of this is embedded in a powerful ecosystem thatGoodpatchshapes with its partners through organizational design, namely in the creation of in-house design teams and ventures.
Berlin Mitte, Berlin, 10115