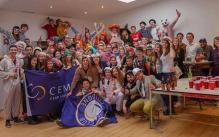 CEMS Carnival in Cologne 09.02. - 11.02.2018
09. Februar 2018, 00:00 Uhr - 11. Februar 2018, 00:00 Uhr
+++ ALL TICKETS SOLD OUT +++
As we received a lot of requests we want to offer all our international CEMS friends a cemsational carnival event for the first time!
At the heart of our event will be the "Medizinerball" a very popular event in the Cologne version of a castel (as we didn't have a king here) but we will add activities around it to make sure you have a great weekend!
Initial plan:

Friday 09.02.18:
Individual arrival (Carnival starts Thu so you might also want to arrive earlier)
16 - 19:00: Predrinks at the CEMS Club (Zülpicherstr. 28)
19 - ....: Medizinerball at the Gürzenich (Martinstraße 29-37)

Saturday 10.02.18:
AM: Hangover Breakfast/Brunch together with international CEMS students
PM: Open for your suggestions
18:00 ....: Ghost parade - be part of it (Südstadt)

Sunday 11.02.18:
Individual departure/TBD (Carnival ends on Tue so you might want to stay a while longer)

Price:
30 EUR for predrinks/ticket/brunch for all paying CAA/PIM&CEMS Club members 2018
45 EUR for everyone else
The price includes tickets to the Medizinerball, which you will recieve here in Cologne after your arrival.
We´re looking forward to celebrate with you!
Zülpicher Straße 28, Köln, 50674
Dieser Event ist bereits vorbei
Möchtest Du Dich zur Veranstaltung anmelden?