Deadline: Fr, 14.02.2020
Ausverkauft
Teilnahme ist kostenpflichtig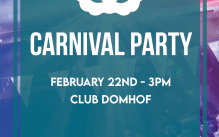 Welcome to our annual Carnival Party
Kalendereintrag herunterladen
22. Februar 2020, 15:00 - 21:00 Uhr
It is this time of the year again - the fifth season is about to start and we want to invite to have an amazing party with us.
We will be @Club Domhof waiting for you!
The first 100 guests will get a free welcome-beer!
Wearing a costume is strongly recommended.
Be there on time! We can´t wait to see you!
Please note that you will get a confirmation mail with which you can pick up your ticket.
Pick up times will be at the open house (February 3rd) as well as on Feb 12th, 13th, 14th, 17th and 18th from 5-7 pm.
Pick up place will be our club-rooms.
You can ONLY pick up your ticket during that time!
At the event you will only be granted access if you have your ticket with you. If you did not pick it up at the above mentioned dates you will be able to pick it up at the party but only between 3 and 5 PM. After that time slot only ticket holders will be allowed entry to the party.
Hohenzollernbrücke 11, Cologne, 50667