Deadline: So, 09.02.2020
Teilnehmeranzahl : 0/177
Teilnahme ist kostenpflichtig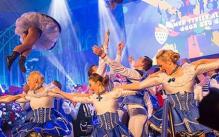 73rd Medizinerball on February 21st, 2020
Nur Club-Mitglieder
Kalendereintrag herunterladen
21. Februar 2020, 20:00 - 00:00 Uhr
The 73rd Medizinerball takes place on February 21st, 2020.
Once again, the PIM&CEMS Club managed to acquire tickets for an exclusive presale among its members.
This year's program is as distinguished as it was in past years. The following bands will be there, just to name a few:
De Bläck Fööss
Brings
Querbeat
4 Kapellen
...and many more!
The party starts at 8 pm and the door opens at 7 pm. Be on time to avoid long lines.
Prices are 32€ for a regular ticket (Alumni) and 25€ for students (Valid student ID must be presented).
Tickets are limited to two per member as there is usually high demand.
Tickets can only be ordered through this event on our webpage.
In order to pick up your ordered tickets, please come to our clubrooms at Zülpicher Str. 28 during one of the following time slots:

Feb 06th from 6 to 7:30 pm

Feb 12th from 5-7 pm
Feb 13th from 5-7 pm
Feb 14th from 5-7 pm
Feb 17th from 5-7 pm
Feb 18th from 5-7 pm
Please make sure to bring the order confirmation that you have received previously! Otherwise, we will not be able to hand out your tickets.
If you want somebody else to pick up the tickets for you, make sure they bring the respective order confirmation.
Martinstraße 29-37, Köln, 50667