Deadline: Di, 11.06.2019
Teilnahme ist kostenlos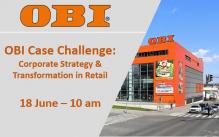 Be part of the OBI Case Challenge on 18th of June
Kalendereintrag herunterladen
18. Juni 2019, 10:00 - 21:00 Uhr
The retail world is undergoing unexpected changes. Driven by rapid technological developments and new disruptive business models, consumer behavior and expectations of long-standing retailers are changing. But how do you behave as a market-leading retailer in such a situation? What to invest in and what decisions to make in order to remain at the forefront of the retail world in the future? This is exactly the question that the OBI Case Challenge on 18th of June will address!
We invite you to spend a day in the role of a strategist and project manager at OBI to get to the root of these questions. Visit an OBI store with us and work in our offices on a real project assignment of top management. The solution ideas that you and your team work out are finally pitched in front of a selected team of decision-makers who give you direct feedback and award prizes for the best project idea. In the evening we want to celebrate the winning team with you. During a dinner and drinks in Cologne you will have the opportunity to get to know the Corporate Strategy Team personally.
Interested? Then apply by Tuesday, 11th June 2019 with your CV.
If you have any questions, please contact Claudio Tiranno, Corporate Strategy, claudio.tiranno@obi.de
Im Gewerbegebiet Pesch 4, Köln, 50767